What an incredible group of people, pushing their bodies, minds and souls to the limits to make the 60km journey 'To Freo and back' in under 9 hours. Together they raised a total of $5,443 for spinal cord injury research.
The idea for the challenge came about a few years ago. Jacob Hackett, his brother Kris and a good friend Michael, would every now and then discuss the possibility of making it from their local suburb of Duncraig, located in northern Perth, down to Fremantle and back. The plan was finally able to come to life once Jacob created 'Making it Simple', an organisation focussed on supporting everyday Australians making a difference – it provided the perfect avenue to promote the event and participate for a worthwhile cause, SpinalCure.
Jacob chose SpinalCure as he knew he wanted to select a charity that supports people who aren't able to use their limbs as freely as most. Growing up he often had a lot of injuries and spent time in wheelchairs or on crutches, something he found extremely frustrating. He could only imagine not being able to walk.
The opportunity to take part in the event was extended to all areas of Jacob's life and disappointingly he had very few eager participants. However, with a bit of encouragement and optimism, Jacob was able to convince a couple of people (the hardest being his wife Jemma) to start training and to set themselves the goal of completing the 60km challenge. The final crew of 12 were only locked in with two weeks to go!
Race Day
Final preparations were pretty frantic with all  12 challengers; Jacob, Jemma, Kris, Cian, Hayley, Adam, Ben, Michael, Alex, Matt, Leo and Stacey meeting around 2pm.
"It was buzzing. Everyone was racing around putting tape in weird places, going to the toilet, putting sunscreen on, rubbing creams on. You could feel everyone had that nervous excitement, as no one had completed a distance further than a marathon before," said Jacob.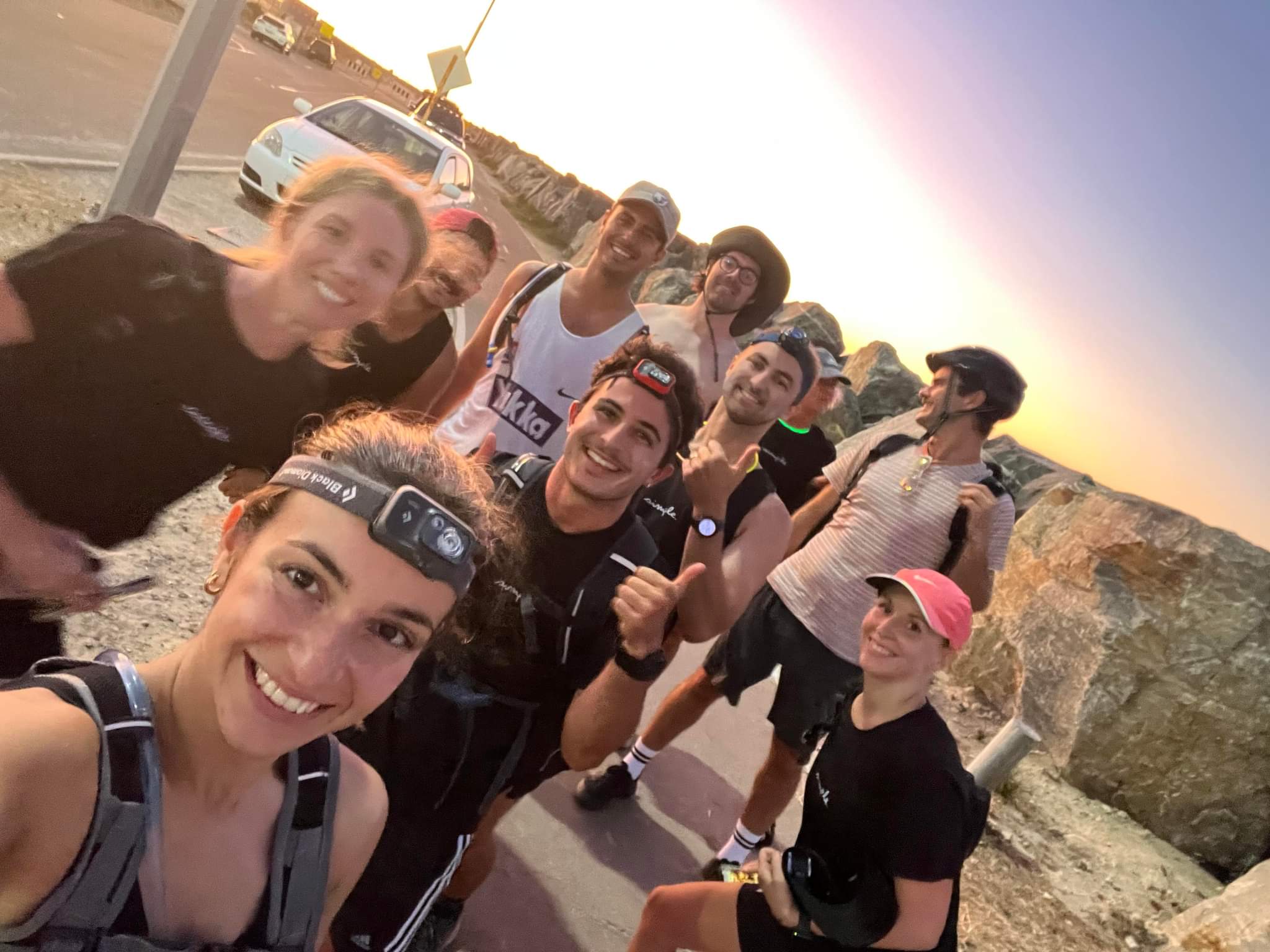 A number of people came out to support the start of the race, which saw the team set off at exactly 3pm.
"We had so much support for the start, the neighbours were out, parents, kids, partners were there and even Simone (sister of one of the co-founders of SpinalCure) was there supporting the crew," Jacob added.
Naturally the group of 12 split into 3 different groups, based on fitness and strategy. Everyone made it to the halfway point with two of the challengers completing what they had set out to do, pushing themselves as far as they could. For the others, it was time to turn around and do it all again.
"Whilst most were trying to keep a steady pace, my brother had smashed the 60kms finishing in just over 6 hours, with his friend Ben not too far behind. For the rest it was a different story," said Jacob.
Despite blisters, sickness and sore joints the team all rallied together and each of the remaining challengers made it to the final destination at around midnight. Loyal supporters were still out to cheer them over the finish line.
"The night ended with an ice bath and a delicious pulled pork burger. Everyone was elated to finish, but also very exhausted. It was an incredible day and one which will be cherished by everyone."
A special thanks to Jacob and his wife Jemma, who we had the pleasure of catching up with before the challenge. We're also extremely grateful to everyone that participated, as well as a number of family and friends that not only donated, but supported the team along the way.