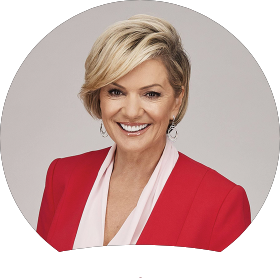 Sandra Sully
Sandra Sully is one of Australia's most widely recognised and trusted news presenters.
She is a respected journalist, producer, news anchor on Channel Ten Eyewitness News and managing editor of Ten Daily.
Her versatility has the enabled her to cover numerous events including elections, the Melbourne Cup, Commonwealth and Olympic Games, as well as co-hosting Good Morning Australia. Sandra was the first person to tell Australia about the September 11 terrorist attacks in New York, and she was on air in 1977 during the Thredbo landslide, where she delivered emotional yet professional bulletins of horrific pieces of news under difficult conditions.
Sandra became involved with Spinal Cure Australia in 2001 after interviewing one of our ambassadors Janine Shepherd when she made her film "Never Tell Me Never". She then became an ambassador herself and went on to become Patron in 2009.
I am a proud, personal supporter of SpinalCure Australia and the work they are doing to find a cure for spinal cord injury.

Through this work, we have the opportunity to vastly improve life for so many Australians in ways not previously possible.

As Patron, I would encourage anyone interested in having a true and profound impact to invest in and support this worthy cause.