Alex Richter
Community Ambassador
We are delighted to announce that Alex Richter has joined our team of community ambassadors! Alex is an incredible young man, chosen because of his positive outlook and determination to gain his independence following his spinal cord injury.
Alex was the face of our Project Spark petition and #WeAreSoClose campaign — at age 16, he was pursuing his passion for mountain-bike riding when a devastating accident changed his life in an instant.
While his schoolmates were studying for the HSC he was in hospital, including seven weeks in intensive care, learning how to breathe again and coming to terms with the fact that he was paralysed from the chest down.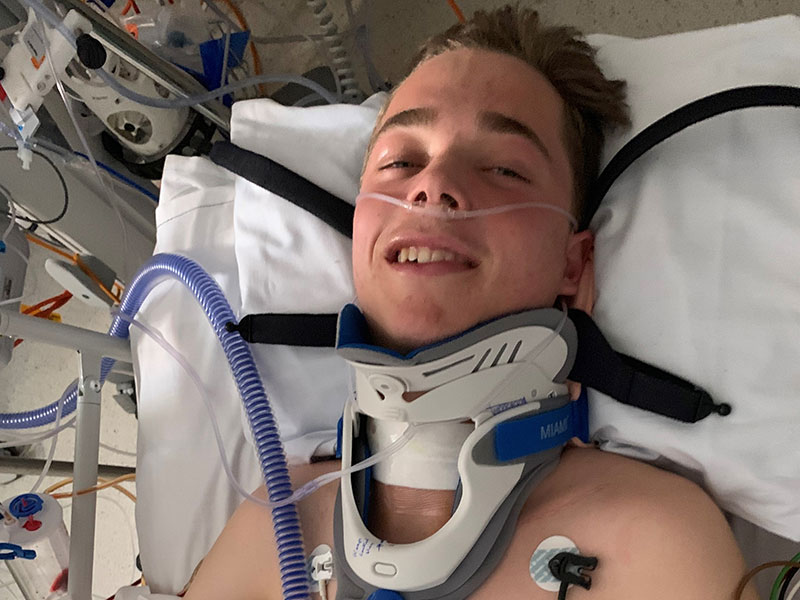 Alex is now studying human sciences at university. He has managed to regain some movement in his shoulders, elbows and wrists since his initial injury, but would love to regain some of his arm function.
"Having a quadriplegic spinal cord injury makes even the simplest things in life pretty difficult, even just using my phone or picking up a water bottle took months of rehab for me, and many can't even do that."
Alex has chosen to support SpinalCure as he'd love to help us continue to raise awareness — he hopes that one day the results of our research will prevent people from having to deal with the daily struggles of a spinal cord injury.
"While people with spinal cord injury can still live a great life, even the smallest functional improvements will make a huge difference."
He also believes that,
"With the right funding, research in Australia right now means it is very possible for there to be some sort of cure within my lifetime."