Finding a cure for spinal cord injury has always seemed unbelievable, until now.
Neurostimulation is a new technology that could change everything and we have community-based trials starting in May 2023.
DO YOU KNOW SOMEONE WHO'S
LIFE COULD CHANGE ON THESE TRIALS?
Or could you benefit yourself? If you suffer from a Spinal Cord Injury or know someone who does then please get in touch.
We need people to help us bring this amazing new technology out of research and into our everday lives. 
WHAT IS
NEUROSTIMULATION?
Neurostimulation is using electricity to stimulate the spinal cord. Traditionally we've only been able to stimulate the muscles directly. Now we can hone into the nerves that control the muscles directly from the spinal cord itself. It's a simple idea but it has potentially revolutionary results. 
If you think of a spinal injury like a crash on a 4-lane motorway. Some roads are blocked, Neurostimulation finds ways to get around these blockages so the traffic can still flow. Messages from the brain can still reach their destination. Watch the video for a full breakdown, it's truely fascinating and life changing.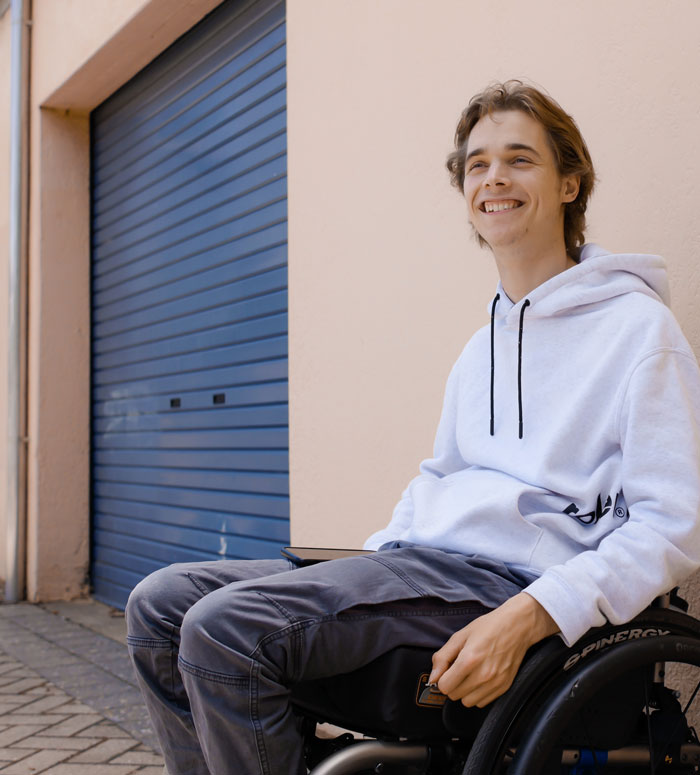 'I'M SO EXCITED TO BE ON THE TRIAL. IT COULD CHANGE SO MUCH'
Alex Richter, suffered a Spinal Injury while Mountain biking at age 16, in year 11 at school. Alex is amazingly positive. But still, his paralysis means he's completely dependent on people around him. He has limited arm and hand movement which he works hard on improving with intensive physiotherapy sessions. 
This could make a huge difference to Alex's independence and quality of life. He says, "All we can do from here is keep going. A cure is one thing which would be incredible, but even a tiny bit of function improvement would make a huge difference to my life." 
WHAT WOULD YOU HAVE TO DO?
Time is all we ask of you. Two to three weekly visits over a period of 6 weeks to receive the most advanced, groundbreaking treatment available anywhere in the world.
This video from Dr. Claire Boswell-Ruys, a Senior Research Fellow at NeuRA, goes into more detail about what you should expect on the trial.
But as Alex Richter says in the video above, "you just sit back and relax while they do all the hard work".
If you have further questions then please do not hesitate to get in touch, email [email protected] or call 1800 SPINAL (1800 774625)

Yes I want to help make the unbelievable, believable.
This is only the beginning. Neurostimulation has the potential to completely change lives and we'll be following it all the way. Join us on our Insta as we bring you all of the breakthroughs, the highs and the lows on this journey to making the unbelievable, believable.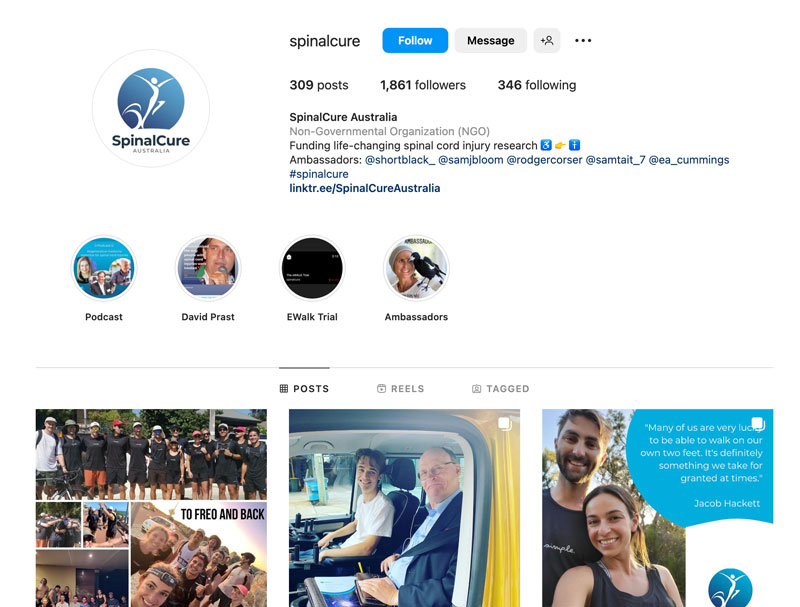 Join us in making the unbelievable, believable. Every day in Australia, another person suffers paralysis and will live with the debilitating effects of a spinal cord injury It could happen to any one of us, at any time. There was no hope of treatment, until now.
Your support today can help make trials like these happen and give Australians like Alex a chance to see the potentially life-changing benefits of neurostimulation.

© SpinalCure Australia 2020.
All Rights Reserved