Congratulations to Tom on his huge achievement, completing the Ultra-Trail Kosciuszko 100km marathon in just over 23 hours, and for reaching his fundraising target and raising over $5,000 for SCI research.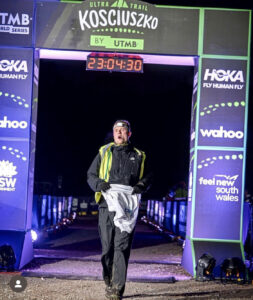 Tom set off in sub-zero temperatures and not only faced the challenging conditions overland, but also within. Tom said, "The 20km stretch between 65 and 85km's, alone and in the dark, calculating the 6hrs I had to go to see humans remains one of the hardest physical and mental challenges I've ever faced, but it's not much compared to months in hospital."  Adding, "I work with people who've developed an incredible degree of mental toughness out of their experiences and I hope I've done them proud."
Tom described some parts of the race as a 'magical experience' and said his personal highlights included, "When the snow stopped and the warm sun came out." And how he was able to "pelt down the last 500m to the finish line".
Tom, an exercise physiologist at RoboFit, works with spinal cord injuries everyday. "I'm blown away by the resilience of some of my clients and their ability to keep turning up despite being faced with UTI's, chronic pain, as well as limited movement and independence." He said "A clients incredible story of their own ultramarathon and breaking their ankle at 80km, and still finishing, along with Emma Carey's motto from her book 'if you can, you must' put a rocket up me to train hard and finish the race."
He's seen that, "Even small improvements in daily function and the ability to do things like sitting up and lifting legs, things that you don't even think about, can make a massive difference for people with spinal cord injury." Tom hopes that, "Raising money towards Project Spark can help people improve their quality of life and to reach their goals."
Our congratulations again to Tom on this incredible achievement and our thanks to everyone who supported him along the way.
#UltraTrailKosciuszko #RunTheHigh