SpinalCure Australia is delighted to award four small grants to spinal cord injury (SCI) researchers to assist with their career development and research advancement.
The support for these researchers was made possible thanks to a generous bequest by the late Peter Blundy, a former Australian Navy officer who became a quadriplegic when a balcony rail collapsed, causing him to fall from the second storey.
"We are excited to see young scientists choosing spinal cord injury for the focus of their research. Their innovative approaches give us great hope for the future and we are pleased to be able to support their work in this small way," said Duncan Wallace, SpinalCure Executive Director.
Applications were reviewed by our scientific panel and we're pleased to announce that the four successful recipients are:
Bingyan Liu (pictured), graduated with a Bachelor of Engineering (First-class Honours) in 2020 and is currently a second-year PhD student at the University of Sydney (School of Biomedical Engineering).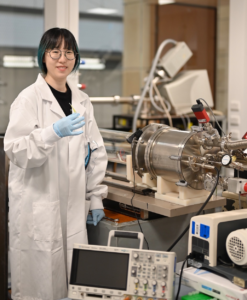 Bingyan has been invited to the Bio-fabrication 2022 Conference, taking place in Italy in September 2022, as an oral presenter. She has been asked to share the highly promising findings from her current research in the area of developing advanced, plasma-engineered solid-hydrogel hybrid structures to fabricate nerve conduits to treat neural SCI. She received a travel grant of $2,000 towards the cost of her trip.
This conference, held every two years, is one of the most important international conferences in the field of tissue engineering and regenerative medicine. It attracts leading scientists and biomedical engineers from all over the world. Attending this conference will provide Bingyan with an excellent opportunity to present her break-through research results. It will also give her the chance to engage with the biomaterials and regenerative medicine scientific community.
A clinician and PhD research student based at Neuroscience Research Australia, Dr Anandit Mathew (pictured), is enrolled full-time in the Prince of Wales Hospital Clinical School, Faculty of Medicine at the University of NSW.
We are pleased to award Dr Mathew an equipment grant of $4,000 towards his research investigating the therapeutic effect of acute intermittent hypoxia on the restoration of movement in people with SCI. His grant application aims to improve the dose delivery of the hypoxic/hypercapnic gas mix such that it can be tailored for each participant to maximise their responsiveness to treatment.
"People with spinal cord injuries live with great physical challenges in their day to day lives. Improvements in motor control and function will go a long way in improving their quality of life. I feel that my research has great potential to contribute in a small way to this goal," said Dr Mathew.
Selwin Samuel (pictured), a third-year PhD student at the Mater Research Institute, affiliated to the University of Queensland, has been awarded a travel grant of $1,500. He will be presenting the findings of his research at the annual conference of the British Society of Immunology, to be held in the UK in December 2022.
Selwin has discovered that many immunogenic products produced by bacteria, viruses and fungi exacerbate the development of neurogenic heterotopic ossification (NHO) after SCI. NHO is a frequent, debilitating complication of SCI involving abnormal bone growth around joints.
His work provides clinicians with a way to predict the onset of NHO by analysing the microbial population, allowing them to begin prophylactic treatment, thereby reducing the incidence of these incapacitating ossifications in those with SCI.
Annie Palermo, PT, DPT, PhD (pictured), Postdoctoral Fellow at Neuroscience Research Australia and Associate Lecturer at the University of NSW Medicine and Health, received a travel grant of $2,500 towards attending the International Spinal Cord Society (ISCoS) annual meeting taking place in September 2022.
Annie will be delivering an oral presentation on her research at ISCoS titled "Inspiratory muscle training protocol comparison for individuals with SCI: a secondary analysis". In addition, she will also be presenting an interactive workshop with Dr Euan McCaughey and Prof David Berlowitz. The workshop, titled "Abdominal muscle stimulation to improve function after SCI: an interactive workshop", will provide theoretical framing and published evidence for various uses of abdominal functional electrical stimulation.
Annie's broad research interests include respiratory wellness, functional independence, and quality of life of those with lived experience of SCI.
Bequests – a lasting legacy to be proud of
"SpinalCure Australia is extremely thankful for Mr Blundy's bequest, which made these grants possible," said Mr Wallace.
"Those like Mr Blundy who left a gift to SpinalCure Australia in their will have enabled us to finance some outstanding research over the years, bringing us ever closer to the ultimate goal of finding a cure," he added.
If you would like to find out more about leaving a gift for research in your will please call Duncan Wallace on 02 9356 8321 or email [email protected].
You can also find more information about leaving a gift in your will here, including suggested wording for your will.