Professor Simon Gandevia is one of the world's leading neuroscientists, and is the Deputy Director of NeuRA and Senior Principal Research Fellow, NHMRC. He is also the Study Lead for the eWALK trial, funded and initiated by SpinalCure, along with our partners Catwalk. We spoke to Prof Gandevia recently to find out more about his passion for science and his work at NeuRA
What sparked your interest in science—was it a childhood passion? 
Yes, I had an early interest in how things worked – whether they were biological things or mechanical ones.  
As a very small person I recall fiddling for ages to make a crystal radio which worked.  In high school I became interested in biology and was encouraged to conduct experiments, which I did on ultraviolet light and its effect on the growth of various fungi. We won a prize for this work.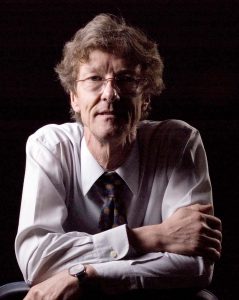 How did you come to help found NeuRA, and what did you hope to achieve? 
The Institute was founded by two physiologists from the University of New South Wales and two clinicians from Prince Henry Hospital—two were junior and two more senior. 
We all had comparatively large NHMRC Research Grants. Looking in the crystal ball we felt we would soon be disappointed at the likely support to come from the university and hospital sectors for new clinical research. So, we set out on our own to establish an independent medical research institute and we received a substantial competitive federal grant.
We hoped the Institute would undertake ground-breaking research, looking at physiological processes, neurological conditions and other areas of human health which depended upon an intact nervous system. 
Interestingly, we accurately predicted the end of hospital and university funding in the 5-10 years following establishment of the Institute. However, we underestimated the growth of many areas of physiology and medicine over a longer time frame. 
You have an extensive research background – how did you become interested in spinal cord injuries? 
The breadth of my work turned out to be greater than I might have expected – it's probably larger than that of some international contemporaries. This was a twist of fate.  
I was due to start work on human proprioception (sensing bodily movement) as an honours project, but the equipment had not been finished in the workshop. As a result, I was given an additional project studying the control of breathing in animals. 
After that, I retained an interest in both proprioception and respiratory physiology and medicine – right up to my current work.  
My interest in spinal cord injury and its sensory, motor and autonomic consequences began in my honours and PhD years and continued during the medical course and beyond. It involved studies on patients with spinal injuries and polio in the spinal ward at Prince Henry Hospital.  
What is your favourite part of your job and why?
Initially, it was fiddling about in the laboratory exploring how physiological processes worked. This led me to know the value of conducting high quality studies and often I was able to use them later to help me devise clinical neurophysiological tests (tests studying the sending and receiving of information in nerve cells) which I could apply in assessing patients and in research on patient groups.  
I also get much satisfaction from crafting interesting or innovative approaches to problems—often helping to connect the dots between colleagues and collaborators to best use their skills.  
 What would you like to see more of in Australia around SCIs and/or research?
Australia is a comparatively small country but in some areas of science, it has contributed more than expected.  
Our strengths in health and medical research have included immunological discoveries and also work on the brain and nervous system.  
Australia has also had a strong clinical workforce in spinal medicine.  
I would like to see an effective national Spinal Cord Injury Centre which would improve the research done in a number of cities in the country.
What have you learnt about neurostimulation from the eWALK trial? What does a day in the trial look like for you? 
I have long been aware of the potential for stimulation of the nervous system to give rise to short and longer term changes. Preparing to establish the eWALK trial has taught me not only a lot about some technicalities of neurostimulation but the degree to which many studies in the literature have been conducted in a sub-optimal way.  This has driven the meticulous design and planning which has gone into the eWALK trial.
I am involved in the trial in different ways most days that I am at NeuRA:  this may be visiting the treatment, assessment and training gym to talk with colleagues and participants. Or, it may involve dealing with operational issues locally and at the three international sites which are coming on stream to be part of the eWALK trial.
What science are you most excited about right now?  
I'm excited to push the boundaries of what different forms of chronic (ongoing or repetitive) neurostimulation may be able to do.
However, I am critically aware that the standards for this type of research need to be elevated from those that have often bedeviled us in the past.
What do you see as SpinalCure's role in furthering SCI research?  
Clinicians and researchers are often poor communicators with potential funding supporters and with different levels of government. Non-government organisations such as SpinalCure are advocating for those with spinal cord injury and for promoting the belief that proper research is the only way to offer improvements in function and potentially, ultimately a cure for spinal injury.
Donate to support neurostimulation research
Read more