Bradley Trevor Greive AM (BTG) wrote the best-seller Penguin Bloom, The Odd Little Bird Who Saved a Family, as well as the new book Sam Bloom, Heartache & Birdsong. For four years he researched spinal cord injury (SCI) and spent thousands of hours interviewing Sam and her family – time which resulted in these thoughtful, honest and beautiful books.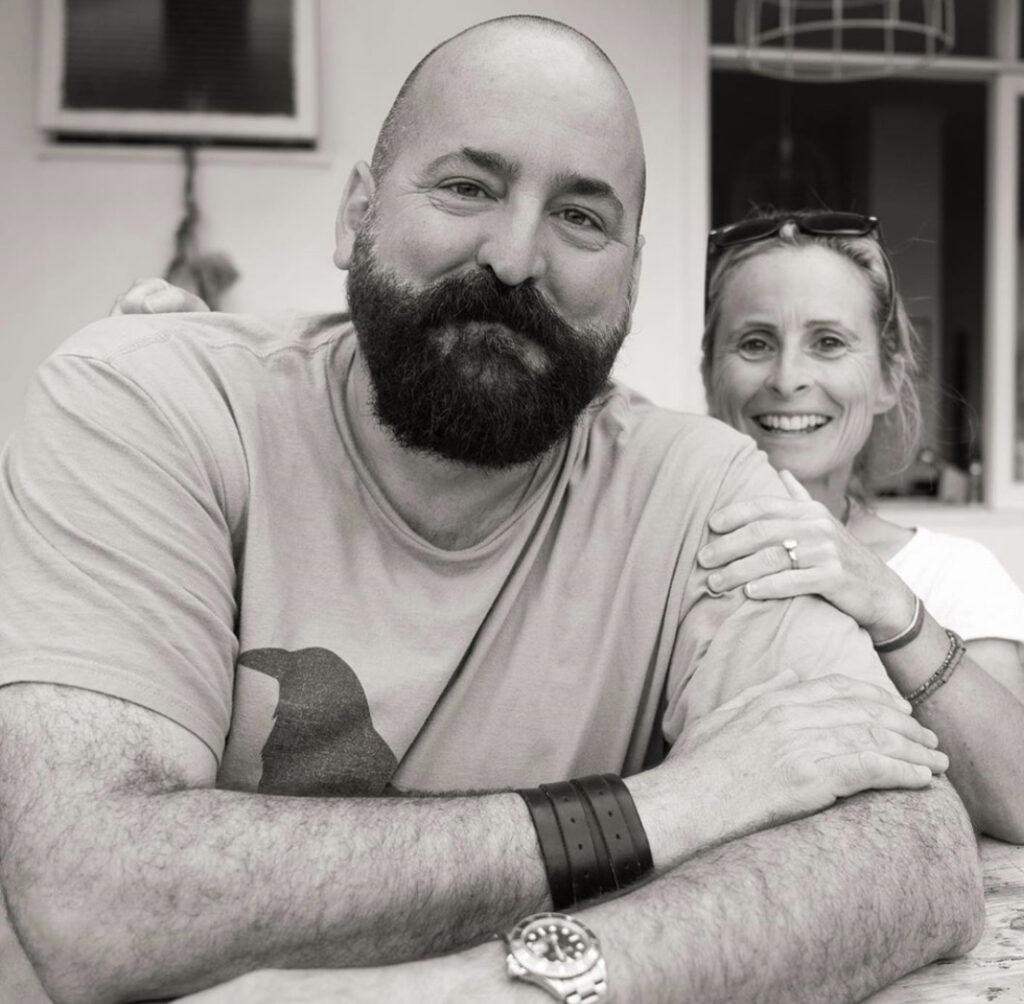 Without the darkness, the light doesn't seem as bright. And, above all, this is a [story] about hope."
BTG has had a long, distinguished creative career, with notable works in television, radio, cartoon, and stage. He currently produces wildlife documentaries, and has even designed roller coasters for Walt Disney theme parks. His award-winning books have sold over 30,000,000 copies in 115 countries, and he supports numerous conservation, arts and literacy projects throughout the world. In addition to being the world's highest selling humorist, he served in the Australian Army, as a paratrooper commander, is a former Polynesian rock-lifting champion, and also completed cosmonaut training with the Russian space Program.
Normally an intensely private person, BTG has graciously answered questions about his involvement with the Blooms, whom he regards as his own family, his interest in SCI and some of his work.
---
How did you meet Sam Bloom?
BTG: "I didn't meet Sam until I'd agreed to write Penguin Bloom. But Cam and I met ten years before Sam's accident at a wildlife conservation fundraiser at Taronga Zoo – we then stayed in contact via social media, which was how I heard about Sam's fall. I was based in America at the time. At first it was hard to understand what had actually happened, as many of the online newspaper articles were saying conflicting things, but I soon realised how grave the situation was and I was devastated for Sam, and for Cam and their three children."
---
You mention in your email to Duncan, SpinalCure's CEO who also lives with a spinal cord injury, that your first experience with SCI was in the military. Was this part of your motivation for telling Sam's story? Or did something else motivate you?
BTG: "My first experience with SCI was back in 1991, when I was a young paratrooper commander. One of our elite soldiers got tangled in his parachute static-line as he exited the aircraft and broke his neck.
Whenever I was the regimental duty officer I would drive from Holsworthy Barracks to visit him at Royal North Shore Hospital, where Sam also received treatment in 2013. It was difficult, very difficult, I didn't know what to say, and he didn't want to talk to a new officer he didn't know.
I vividly recall when he was discharged from rehab and was able to visit the battalion a year or so later, for the annual Kapyong Day parade, many soldiers were reluctant to approach him. They were afraid they'd say the wrong thing, perhaps, but I think mostly it was the terrifying notion that this could have happened to them – his electric wheelchair and oxygen tanks embodied one of their darkest fears. It was a very sad and embarrassing situation that I never forgot. I'm glad to say he now lives in the Blue Mountains and his friends tell me he is doing much better.
But I only wish I knew then what I know now after spending so many thousands of hours talking with Sam. Even after almost four years of research for the two books, I'm still astonished by how little I know about SCI. Every time Sam and I talk I learn something completely new. So yes, in addition to my friendship with the Bloom family, I was definitely motivated by my earlier experience to do my best to tell Sam's story honestly and as powerfully as I could.
I consider myself to be someone who is well read and loves learning and, based on my heroic ignorance, there is no doubt in my mind that SCI survivors and their stories are underrepresented in the media and in literature and that these stories are often mistold to make able-bodied readers feel comfortable. I was determined not to let this happen. I wanted to create something beautiful and uplifting that did not shy away from the ugly truth. I wanted to write the book that Sam deserved."
---
Can you explain a bit about how the Bloom story fits in with the rest of the canon of your work?
BTG: "Other than that they also feature wonderful wildlife images, Penguin Bloom and Sam Bloom are very different books to the rest of my work. My professional claim to fame is that I'm the world's highest selling humorist. I do write about universal themes, some of which can be dark and challenging, such as The Blue Day Book, which was my first big international success.
But I strive to use humour throughout; I always want to keep things light and upbeat. And this is why when Cam called and asked me to write Penguin Bloom I initially said "No" – I just wasn't sure this was a book I could possibly write. Keep in mind that originally ABC Books wanted me to write the text for a book featuring Cam's stunning magpie photos. But I knew there was a far bigger story in there, and so when they asked me to reconsider I agreed to think about it for a couple of weeks; during which time I fact-checked Sam's story and double-checked all the key dates.
When I realised that Sam's post-injury depression first started to ease when she rescued an injured baby magpie, I knew I had found a completely new way to tell her story, by using a broken bird as the vessel for her shattered life. By that time I was almost begging to write the book. Not that it was easy going – it's unpleasant to ask people, especially friends, the really tough questions.
I even sought advice from a police detective in Chicago, about how to get to the essence of the truth when dealing with people who have suffered terrible trauma. And of course, unless you have SCI, you really can't comprehend what it's like, and how it's so much more than the wheelchair. I knew it hurt Sam to answer these important, detailed questions, because she had to relive all her worst experiences in the process.
But it wasn't all misery and gloom – Sam has a great sense of humour and we shared plenty of lighter moments as well. I genuinely looked forward to our frequent in depth conversations but, as my wife will tell you, I wept every day for a year while writing Penguin Bloom – The Odd Little Bird Who Saved a Family, and the sequel, Sam Bloom – Heartache & Birdsong, was even harder."
---
Can you tell us a little about how the movie came to fruition?
BTG: "Getting the movie adaptation of the book made was quite an adventure. I'm currently based near Hollywood, where I produce wildlife documentaries, so you'd think I'd know what I was doing, but you'd be wrong. Sam, Cam and I had agreed that if we ever got the movie made then we all wanted Sam to be played by Naomi Watts.
So for close to 12 months I set out to make that happen. And, despite having all the best agents and connections, I failed. Funnily enough, just as we'd all first met at Taronga Zoo, so too, Taronga Zoo proved critical for the movie getting made.
I knew Emma Cooper, the daughter of the former Zoo Director, Guy Cooper, was a close friend of Naomi Watts, and so in the end I gave up on shiny Hollywood middle-men and just reached out to her. Emma loved the book and happily passed it along to Naomi, who also loved the book to the degree that she didn't just want to play the lead role, she also wanted to produce the movie with Emma.
That changed everything. Suddenly Reese Witherspoon was involved, and Bruna Papandrea was on board … and the phone didn't stop ringing. I'm not sure how most movies get made, but we pulled it off using the Secret Zoo Mafia, which still makes me smile.
I will add though that by sticking to our guns, and not settling for anyone but Naomi as our star, we set a very high standard that attracted other extraordinary people – such as Jacki Weaver, Andrew Lincoln, Rachel House and Lisa Hensley, as well as Director, Glendyn Ivin, and Cinematographer, Sam Chiplin. My wife and I had just welcomed our baby daughter, Genevieve, prior to film production, so I wasn't able to spend much time on set – But while I was there the feeling amongst the cast and crew was wonderful, and Sam, Cam and the boys were fully engaged and very happy. It was clear Penguin Bloom was going to be a very special movie."