The life of a remarkable quadriplegic from Perth who introduced an innovative model of exercise rehabilitation to Australia and helped pioneer research – which is now leading to spinal injured people gaining movement and even walking again – has been recognized through a book, ten years after his death.
He started off as a typical knock-about Aussie kid, but David Prast became a commanding presence on international stages. Among his friends and colleagues were top researchers in the field of spinal cord injury and the late great Christopher Reeve.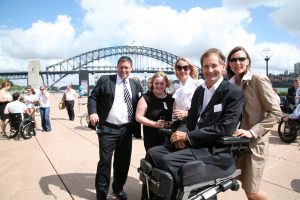 Like the Superman actor, David sustained a high-level spinal cord injury from a simple accident during a calm afternoon dip at Cottesloe Beach in 1995. After many months in hospital, David was suddenly negotiating life in a wheelchair, with limited hand movement and paralysis from the chest down.
The book "Walk On – The Remarkable Life of David Prast" is written by Peter Murray, who has worked with people with spinal cord injuries and was inspired by David's story.
It tells the story of one man who was frustrated by the hospital rehabilitation system and did what he could to improve that and life for people in his situation out in the community.
"David revolutionized the way people with spinal cord injuries were treated, by bringing Walk On (now NeuroMoves), a specialised national exercise and therapy  service run by Spinal Cord Injuries Australia (SCIA) to fruition," said Dianne Lucas, CEO, SCIA.
"David understood that if you can get the clinicians and scientists collaborating and ensure you have the evidence, you can transform people's lives," said Duncan Wallace, Executive Director of SpinalCure Australia.
"He would be truly excited to see NeuroMoves being part of the next leap in spinal cord injury treatment.
"We are now launching Project Spark and our eWalk trial which build on the NeuroMoves service by combining it with spinal cord neurostimulation.
"We believe these treatments are transforming the lives of people with spinal cord injury," he added.
David remains the only person ever to sit on the boards of both SpinalCure Australia and SCIA.
In his 16 years as a quadriplegic, he initiated innovative projects to fund the quest for a cure for paralysis as well as instigating and being a driving force behind the establishment of research programs and conferences in Australia and overseas.
David's success and legacy was his ability to connect and bring people together and his enormous energy and drive as an advocate for people with disabilities.
All proceeds of the book sales go to SpinalCure and SCIA. Our thanks to the author, Peter Murray.
To purchase the book: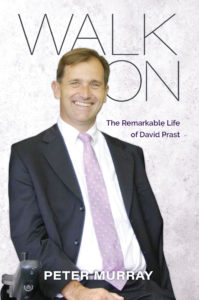 Paperback price: $23.50 plus postage $5.50 (Australia) Orders: Email your name and your postal address to— [email protected]
E-book version available from Amazon Kindle: amazon.com.au/dp/B09S61DBBT 
About David Prast
David Prast was a leader and inspirational thinker whose determination led to major improvements for those, like him, who experienced a spinal cord injury. An afternoon dip in a calm ocean at Perth's Cottesloe Beach had left him with tetraplegia – with little movement from the neck down. In a freak moment, David, a charismatic and successful businessman, became trapped and desperate to get out of a wheelchair.
Yet David used his drive and determination to become a major advocate for people with spinal injuries, focusing campaigning on the need for better initiatives, particularly in medical research, until his death in November 2011. David often said that the work he was doing was to benefit others, rather than himself.
His achievements included establishing the first state government Neurotrauma Research Program in Western Australia, which became the first of many. He helped promote the potential importance of stem cell research. He pioneered a global campaign to cure paralysis (International Campaign to Cure Paralysis), which resulted in greater awareness and improved funding for this under-researched condition, and developed methodologies that are currently used for clinical trials in spinal cord injury repair and protection. David also helped establish the Spinal Cord Injury Network in Australia to further his goal of bringing together all of the sectors involved in spinal cord injury. His vision was to ensure that the latest scientific and medical developments from around the world were made available to people in Australia as soon as possible.
In accordance with his vision of gaining practical outcomes for people with a spinal cord injury, one of his most important accomplishments was the successful Walk On facility, now called NeuroMoves, with 11 centres across Australia and more than 700 weekly clients, providing people with intensive exercise therapy after an accident.
NeuroMoves is an intensive exercise therapy program for people with spinal cord injuries, strokes and related neurological conditions. The program is an individually tailored, intensive activity-based rehabilitation program designed to help participants improve and maximise their functional ability and to lead a more independent life.
NeuroMoves clients regularly report significant functional improvements from their involvement in the program and a positive impact upon their quality of life.
David was a Director of both Spinal Cord Injuries Australia and SpinalCure Australia.