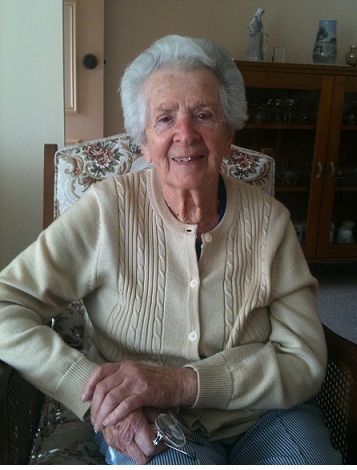 Vera Walters is a spritely 95 year old living in the Sydney suburb of Belfield. She is also a proud and regular generous supporter of SpinalCure. She came across SpinalCure through our previous Chairman, Bob Turner, who still visits Vera regularly when in Sydney.
Once an enthusiastic employee in the insurance industry – in which she experienced all diverse sides of the business, working her way up and finding it challenging and fun – today she still manages to go shopping and meet people for coffee independently.
It is amazing because of her life span that Vera has lived through two world wars and the many changes that there have been over the past six decades in Australia. With her husband Jack now no longer alive, she has seen her most familiar suburbs (around inner west Belfield to Bankstown) change at various times from village-like communities to the thriving, bustling multicultural centres that they've now become. On a recent visit to the north shore, she was bewildered by the multitude of tall buildings adorning the harbour.
Vera hopes to see people who have had spinal injuries improve their condition and one day walk again. In the meantime, her recipe for a long healthy life is worth noting: ''well, we can't all have good genes, but a healthy diet and the occasional indulgence'' seem like good advice.
Thank you Vera!