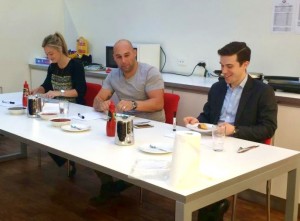 Our friends at the AFL in Melbourne held a Charity Bake Off this week to raise funds for research. Special guest judge Shane Delia from Melburne's exclusive Maha Restaurant was joined by two staff judges to consider AFL staff offerings in "Sausage Roll" and "Cake" categories.
Showing his culinary prowess Shane easily picked up on the ring-in "home-brand" sausage roll and wisely declined to taste it!
Many thanks to Dwayne Wathen from the AFL Social Committee and all involved.
Pictured L to R: judges Ellie George-Brimson (Umpiring Department), Shane Delia (Maha Resturant) and Andrew Gennai-Garino (Strategy Department).