Four broad areas of research are showing the most promise for spinal cord injury treatments. The frontrunners in each are being tested in people:
Pharmacological treatments
These include drug therapies which, if administered soon after injury will hopefully reduce the degree of permanent damage. For example, the spinal units in Sydney and Adelaide are amongst 25 centres participating in a stage 2/3 trial of one such drug, Riluzole, for acute cervical injuries. Riluzole is more commonly used for treating amyotrophic lateral sclerosis. It needs to be administered within the first 24 hours after injury with recurring doses for 13 days after.
Scaffolds
InVivo Therapeutics have reported modest, yet significant improvement of the second and third patients in its clinical trial, just one month after they were implanted with the company's Neuro-Spinal Scaffold. The biodegradable scaffold is surgically implanted into the wound and is designed to assist nerve sprouting. InVivo have also recently announced a new, and very interesting strategy for treating chronic (older) injuries using their new "Bioengineered Neural Trails". These are injectable combinations of biomaterials and neural stem cells (NSCs) delivered using minimally-invasive surgical techniques to create trails across the chronic injury site. We'll be watching progress on this carefully as combination treatments are hoped to be more effective than cell or scaffold treatments alone.
Stem cells
Several trials are underway for varieties of stem cells including those derived from CNS, adipose tissue and umbilical cord sources. The modest early results may seem disappointing in the light of the original hype around the potential of stem cells but it must be remembered that, so far, results are from safety trials with relatively small numbers of cells implanted. Higher doses and more time may be required for better outcomes.
This is exemplified by Asterias Biotherapeutics's trial where the first three patients were given a low dosage of 2million cells to check for safety. Asterias has started ramping up the dose and will be giving the next five volunteers 10million cells each.
For chronic injuries, StemCells Inc have announced six month results for the first six quadriplegic patients to have been given the company's stem cell line. Improvements so far have been minor but it's early days. For the, now complete, safety trial for thoracic injuries one patient can now wiggle a toe, 1 year after implantation, so things are still improving.
Neurostimulation
The most outstanding results of any intervention to date have been achieved by epidural electrical stimulation. The treatment involves the implantation of an electrode array (normally used to treat back pain) against the spinal cord in the lower back, below the site of injury. The first four paraplegic volunteers to have received these implants, two of whom had "complete" (find out more at Reeve Big Idea…)(Paper published in Brain 2014)
The principal scientists behind this work are Prof Reggie Edgerton (UCLA/CalTech) and Prof Susan Harkema (University of Louisville, Kentucky). Prof Edgerton has been developing a new generation of electrical stimulators which allow transcutaneous (through the skin) stimulation, eliminating the cost and dangers of surgery. These stimulators deliver a carefully controlled electrical current to the spinal cord, by way of electrodes strategically placed on the skin of the lower back.
[pullquote align="right"]"It's as if we've reawakened some networks so that once the individuals learned how to use those networks, they become less dependent and even independent of the stimulation," Prof Reggie Edgerton[/pullquote]
In July this year, Prof Edgerton published results which show that a 45min weekly stimulation treatment, coupled with buspirone treatment (a drug normally used to treat anxiety), was sufficient to allow some voluntary leg movement in five quadriplegic volunteers. But what is really exciting is that, by the end of the study the men were able to move their legs with no stimulation at all and their range of movement was, on average, the same as when they were moving while receiving stimulation. (read more…)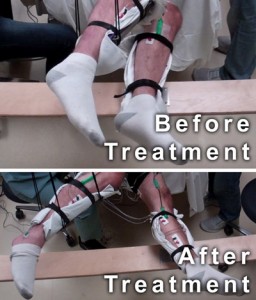 "It's as if we've reawakened some networks so that once the individuals learned how to use those networks, they become less dependent and even independent of the stimulation," said Edgerton.
Prof Edgerton has already initiated a new study to see whether these same men can be trained with non-invasive spinal stimulation to fully bear their weight – a feat already accomplished by those with implanted stimulators.
Though non-invasive stimulation could offer advantages over a surgically implanted device, Edgerton says both need to continue to be developed.
"All patients are going to need something slightly different, and maybe non-invasive stimulation is going to be best in some cases and epidural stimulation in others," said Edgerton. "What we need to do is maximise the clinical tool box that we have so that the physician and the patient can select a therapy that is best for them."
SpinalCure sees huge potential for this line of research and is in regular contact with Professor Edgerton. Make sure you are signed up to our email newsletter for more news on this soon.