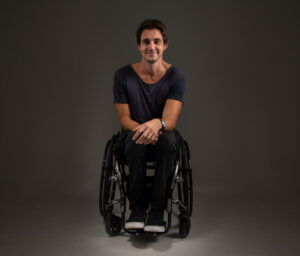 Dean has learned to live without the use of his legs, but he'll never stop dreaming of returning to his old hobbies. 
At age 20, he was on the trip of a lifetime living and snowboarding in the French Alps – until the day he broke his back. The accident left him with a traumatic brain injury and a spinal injury resulting in paraplegia. His life changed forever. 
While there have been some really tough times, Dean hasn't let his injury hold him back. After leaving hospital, he completed a Master of Business Administration whilst going through rehab, working full time and completing a Diploma of Financial Planning. 
After graduating with his MBA, he began a career in the financial services industry while co-founding a microdistillery called Headlands Distilling Co. in Wollongong with his childhood friends. The distillery has since won international awards for its products and donates 20% of all profits to SpinalCure.
"My injury affects me more than I'd ever imagined," says Dean
"Before my injury, I was incredibly active," says Dean. "If I wasn't surfing, or skating, or snowboarding, I was exploring abandoned buildings or caves in a national park. Most of my hobbies have become impossible, but the desire to do them is stronger than ever."
Beyond the physical incapacity, Dean explains that there are several other less obvious issues behind the scenes. 
"There are new health concerns that need to be managed: the general inconveniences like needing to find accessible bathrooms or parking spots, and then there is the mental pain," he says. 
"It feels strange going from a person who loved pushing themselves to the limit to somebody that can't help but feel a sense of longing and an almost guilty envy when you see a child taking their first steps."
"I've come to accept the injury, but I'll never stop wishing for a cure."
"I'm sure it comes as no surprise, but there's nothing I want more than a cure," says Dean.
"I know that I am incredibly fortunate to still have my life and mental capacity given that I experienced a brain injury at the same time as my spinal injury, but since that day, the dream of a cure has been number one. 
"Whilst I've accepted the position that I'm in and don't sit there every day thinking about it, it's always at the back of my mind. I feel like I'm living in a paradox because whilst I love doing something different and I'm always looking for excitement, I want nothing more than to go back to a 'normal' life."
"I live with the hope that one day I'll get back to surfing, to snowboarding, and to climbing mountains again."
"I understand I can't go back and change it so the best I can do is make the most of things from here on," Dean explains.
Dean has seen the amazing progress in research and trials of new technology and treatments, including those right here in Australia. That's why he's become an ambassador for SpinalCure Australia.
"My biggest hope is for a tablet that fixes everything," jokes Dean. 
"Realistically, I am just excited for more progress to be made. Whilst I'd love to get back to life as I knew it and forget the injury ever happened, it would be great for small steps to be made that eliminate some of the hassles. 
"It would be great to not have to search for a wider parking spot, it would be great to not be limited by a few stairs, it would be great to not be the centre of attention when people get drunk and want to "make you feel better"…
"Put simply, I hope that more progress is made. I follow the research closely and whilst it is great to see that it is constantly evolving, it's clear to see that a lack of funding is the limiting factor. 
"They say that if you put enough money into the research, even pigs will fly. It sounds great, but I'm just hoping we forget about the pigs and get me back on my feet first."
Dean is also a SpinalCure Community Ambassador, and one of the 'stars' of our June 2021 campaign, #HelpMeStand.