Over $20,000 raised! Go Xander!
Not your average weekend cycle ride! In June 2014 Xander Beccari cycled from Brisbane to Wollongong — a journey of over 1000km — to raise funds for spinal cord injury research.
Xander explains, "One of my good friends was injured in a snowboarding accident in France three years ago. … Unfortunately he was left paralysed from the waist down. It obviously had a huge impact on his life…. Since then, he has held quite an optimistic outlook that one day through medical research he will be able to walk again. Actually when I told him about this adventure/fundraiser his response was 'well hopefully the money can help and then on the next ride, I'll have to come with you!'."
After 2 weeks on the road, camping each night in the tiny pup tent he carried with him, he arrived at the North Wollongong Hotel on Sunday 6th July to loud cheers from friends and supporters. He actually arrived twice—re-encacting the triumphant arrival for WIN television cameras!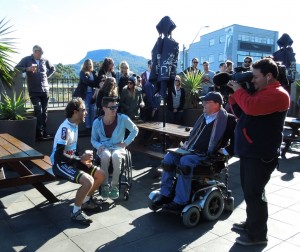 Celebrations continued throughout the afternoon and evening with live music and a raffle which added to the fabulous total raised.
Thank you to all Xander's friends for organising the event and to all the local Wollongong businesses who donated terrific prizes including[list bullet="icon-thumbs-up"]
You can still show your support for Xander: sponsor Xander on Everyday Hero and get in touch on Facebook xandercycle4spinalcure