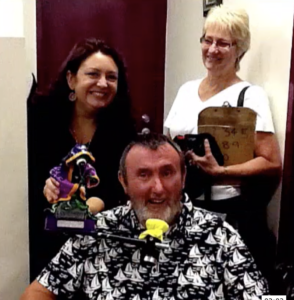 We are very pleased to announce that thanks to the generosity of the late Mr Peter Blundy, SpinalCure Australia is able to provide an annual award of travel or equipment grants for up to $10,000 a year.
These grants would suit a researcher, clinician, or MSc/PhD student involved in SCI research related to SpinalCure's goal of finding a cure for the paralysis caused by spinal cord injury.
"At SpinalCure we strive to fund researchers that are passionate about making a difference for people with a spinal cord injury," said SpinalCure Australia CEO Duncan Wallace.
"And after decades of research, emerging treatments are finally restoring significant function to people who have been paralysed for many years".
These grants have been made possible by a bequest by Mr Peter Blundy, a former Australian Navy officer who had his life changed when a balcony rail collapsed, causing him to fall from the second storey.
Mr Blundy sustained a severe head and spinal injury which resulted in him becoming a speech-impaired quadriplegic.
His speech therapist posted this video on Vimeo about Mr Blundy to share what an inspiring man he was throughout his 25-year rehabilitation process.
SpinalCure will fund up to $10,000 for equipment used in spinal cord injury research projects and up to $3,000 for international travel and $1,000 for domestic travel.
Applications are due by 30 July 2019.
To be eligible, people must be working or studying in Australia and must be applying for a travel or equipment grant. To find out how to apply click here.
"We are extremely grateful to Mr Blundy for considering all those other people affected by spinal cord injury," said Mr Wallace.
"Those like Mr Blundy who left a gift to SpinalCure Australia in their will have enabled us to finance some outstanding research over the years, bringing us ever closer to the ultimate goal of finding a cure".
If you would like find our more about leaving a gift for research in your will please contact Duncan Wallace on 0459 359 180.