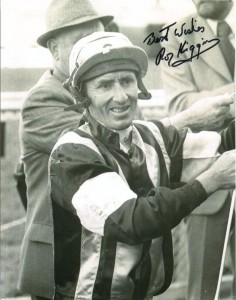 by  Gary Allsop (Honorary Director Spinal Cure Australia)
Everybody at Spinal Cure Australia is saddened by the passing of Roy Higgins MBE, champion Australian jockey and one of the legendarycharacters of the turf. Our sincere condolences go to his family and friends and we are deeply sorry for their loss.
His record is surpassed by none with 2312 wins, 2 Melbourne cups in 1965 and 1967, 2 Golden Slippers, 11 Victorian Jockeys Premierships and a winner of every major race ever run in Australia, in his 30 year career, he retired in 1982. Since his retirement he works mainly in radio and television as a racing commentator. He was awarded an MBE in 1972 by Queen Elizabeth for services to the racing industry.
Roy also has had many falls during his career and has suffered fractures in his spine, fortunately with no spinal cord damage. As a proud Spinal Cord Australia ambassador Roy was acutely aware of the many people that suffer from spinal cord injuries and has participated in previous fundraising activities for spinal cord research. He was particularly helpful to me in 2003 when he fronted a TV campaign for a fundraiser held at the Flemington racecourse, Celebrity Shirts for Spinal Cord Research and he donated several items to be auctioned. I would often see him at the races with my father and he would always make time to talk to us with a firm handshake and a happy smile. Rest in Peace Roy, you will always be a champion bloke and many will miss you.