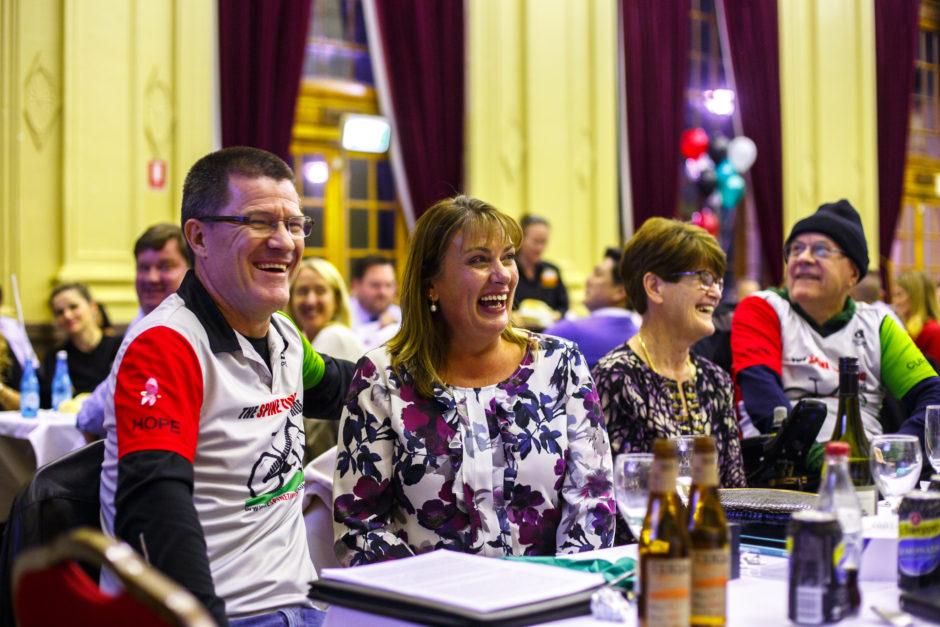 Photos: Ashley St George
If you've ever wondered about the power of individual effort and community support – "how much difference can one person really make?"- this is a story for you!
SpinalCure was very pleased earlier this year to be named as a beneficiary of the inaugural 'Spine Tingling Ride'.
We had, of course, never heard of The Spine Tingling Ride.
However, when we heard that Andrew Kerec was planning to ride 5,500 km across Australia from Canberra to Humpty Doo for SpinalCure (alongside another, fantastic Canberra-based not-for-profit Hartley Lifecare), we thought he was a little bit crazy, but were naturally intrigued.
After speaking with Andrew, we found out that he had a deeply personal connection to the cause.
His father, Lud Kerec had suffered a spinal cord injury in 2010 while training for the Port Macquarie Ironman Triathlon event and was diagnosed with C5/C6 quadriplegia as a result.
Over time, Lud, Andrew and the family have come to adapt to this new 'normal' and have gone on to experience some spectacular adventures together, in spite of the devastating injury Lud suffered.
From this difficult event however, Andrew wanted to create some real positivity – by helping to support others who may be experiencing the same kind of difficulties they faced in the days, weeks and months after the injury and ultimately to help provide hope to those with a spinal cord injury by supporting some truly spine tingling research – neurostimulation!
What unfolded over the months leading up to, during and after the ride was an awe-inspiring example of what one person, and the community surrounding them can do to make a difference.
SpinalCure CEO Duncan Wallace and EO Marketing and Partnerships Kate Retallack had the pleasure of attending the post-ride fundraising event in Canberra in mid-June, and what we experienced there was touching, humbling and inspiring.
Over 300 people packed Albert Hall to celebrate Andrew's achievement, to rally around the cause and to skyrocket the fundraising effort even higher.
Many of these people had pledged, donated and supported the ride in someway already and many had contributed their services, or donated prizes to the event itself.
Everything was donated on the evening (and during the ride) – the hall space, the catering, every detail taken care of. And an incredible team of volunteers from Hartley Lifecare ensured it went off without a hitch.
As a result, Andrew, his family and the incredible community that surrounds them were able to raise an extraordinary $122,500.
This amount will be shared between Hartley Lifecare to support them in their vital work and SpinalCure Australia.
Andrew says of his experience
"It was such a privilege to be able to ride across our incredible country, supported by people that I love dearly and constantly inspired by their strength, unconditional love and resilience. I have no doubt I could not have completed this challenge without the sacrifice and support of my wife, Jodie and my man-wife Dougie!
A heartfelt thank you goes out to every person and organisation who helped to ensure the resounding success of the ride and event, and of course a very special thank you to Andrew and his family for their incredible effort and for choosing SpinalCure as a beneficiary.
In these cases we often wish there was more that we could do to express our gratitude, words don't feel like enough.
However, we know that the very best we can do is to ensure that the work that we are doing honours the work of people like Andrew Kerec, driving forward constantly towards the day when a spinal cord injury is not a life sentence.
We are that much closer thanks to the Spine Tingling Ride.
[box
]Inspired to get fundraising for spinal cord injury research?
Contact us today to find out how we can help you to reach your goals and maximise your fundraising efforts along the way.
Email [email protected] to arrange to speak with someone now.[/box]
Spine Tingling Ride post-event gallery