[divider type="plain" /]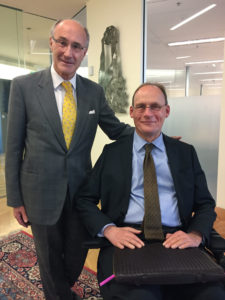 We are pleased to announce that The Neilson Foundation has donated a further $500,000 towards spinal cord injury research. SpinalCure Australia CEO, Duncan Wallace met with philanthropist, Kerr Neilson to thank him for the donation and to update him on the progress of current groundbreaking research.
In the words of Kerr Neilson "We want to assist well-managed organisations that do work that can meaningfully change lives. These can sometimes be less well-known organisations that are striving to achieve extraordinary things. We also hope others will understand the significance and worth of SpinalCure Australia's ambitions and contribute to their funding needs."
We are very grateful to Kerr Neilson and the Neilson Foundation for their generosity and ongoing support.