Headlands, a Wollongong-based distillery, has been founded with the community positioned as a fifth business partner, such that 20 percent of the profits are donated to charity. That charity is SpinalCure and the profits are assisting with research efforts to find a cure for spinal cord injuries.
Headlands, which was set up by four friends in 2015, began by producing only vodka. The four have been working hard and they are about to release three new products, with whiskey also in the pipeline.
Their mission statement is to "connect primary production to the world by being an authentic, Australian producer of high-quality spirits".
"The process involved in producing our products has been built to be as efficient as possible, helping to minimise our carbon footprint and create a positive social impact," said Co-Founder Dean Martelozzo, 29.
"Corporate social responsibility is important to us and as the founders, we wanted to make sure the company reflects our personal values," said Martelozzo.
"We decided that among other practices, we wanted to operate as if the community is a fifth business partner. As such, we will each receive 20% of profit and a charity will receive the remaining 20%.
"For obvious reasons, I suggested SpinalCure and Jared, Tom and Lachy were instantly in support of the idea as it was very close to our hearts".
Dean suffered from a spinal cord injury in 2011 while he was backpacking in France.
"After I completed my undergraduate degree, I did what a lot of Aussies do, I bought a one-way ticket to Europe to live the life of a backpacker; indefinitely.
"I decided that before becoming a hostel junkie I would do a snow season living in Val d'Isere. Three months into the season, I had an accident in the Tignes terrain park".
"I had a traumatic brain injury and broke my back in four places, rendering me paraplegic," Dean explained.
"After a few weeks in intensive care in Grenoble hospital, a few more in the acute spinal ward in Randwick and three months in the rehab ward (also Prince of Wales in Randwick), I arrived back home a little unsure of my future".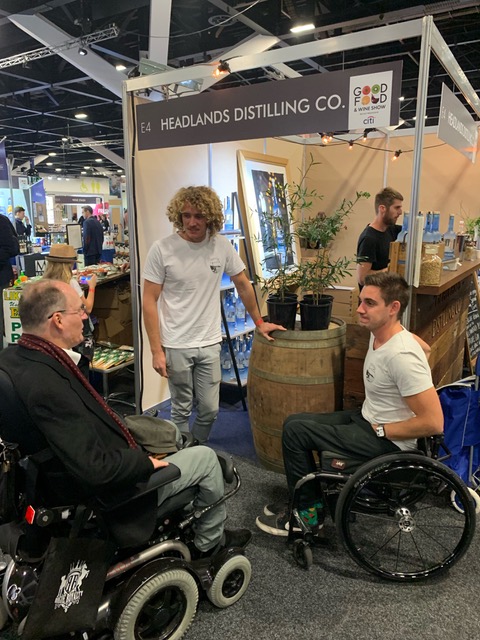 Dean is sure that as long as there is money going into the research, one day a cure for spinal cord injuries will be found.
"Whilst I'm no specialist, it's my belief that at some point, humans will be able to cure spinal cord injuries. The question in my mind is whether it's 2 years or 200.
"The capacity of humans is limitless and I think that if you invest enough money into the research, anything is possible!"
Dean and the other Headlands founders have been following spinal cord injury research developments.
"It gives me a lot of hope to see progress being made and the purpose underpinning SpinalCure is directly related to this".
Dean and the other three founders have met SpinalCure CEO Duncan Wallace in person, and this personal connection brings them even closer to the cause.
"In a paradoxical way, it is comforting to know that Duncan is a quadriplegic himself and that we share the same goals.
"Whilst I don't ever wish for anyone to experience spinal cord injury, the fact that Duncan also has one gives me confidence that the money donated is being allocated towards the research with the largest possible impact.
For the Headlands founders, the sky is the limit.
"In the medium term, as we add new products and grow our portfolio of spirits, we want to grow our brand footprint. We will make further moves to solidify our social responsibility credentials. For example, we are looking at installing solar panels and battery storage and expanding our bottle recycling scheme to our entire product portfolio," said Dean.
"Over the longer term, I hope that we go global and are known worldwide for the quality of our spirits and our socially responsible practices".
As it grows, Headlands is committed to remaining socially responsible; using 100 percent renewable energy, sourcing the ingredients from farmers that are as close as practicable to reduce transport emissions, using recycled packaging and giving all spent grain husk (after fermentation) to a local farmer who uses it as cattle feed.
"All of these aspects come with a higher cost," said Dean, "however as founders we have unanimously agreed that the intangible impact of a business not acting responsibly is much higher than the dollar cost of doing so.
"We are more than happy to wear this financial cost in order to ensure that the business represents our own personal values. Our ongoing support for SpinalCure is very much at the core of our strategy and an important aspect of our company's future".
For more information or to view their products visit www.headlands.com.au