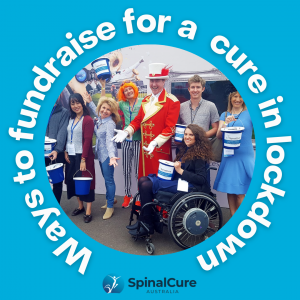 Lockdown can feel like groundhog day, we get it! Raise money for a cure and break the monotony for yourself and others with these fantastic challenges.
With two trials currently running in Australia, we are closer to a cure than ever before, and every dollar can help us get there.
Personal isolation challenge
Grow a beard, shave your head, take on a fitness or workout challenge, or give up something you love like chocolate or wine. Take on a challenge as part of a team, or on your own and set up a sponsorship page.
Create a Facebook fundraiser
With just a few clicks, set up a fundraiser through Facebook. All your friends and family can participate without leaving the house. To generate their interest, tell your story or that of someone you know with a spinal cord injury, or why a cure means so much to you. Post photos and ideas in your fundraiser, and ask your friends to share with their network.
Hold a virtual trivia quiz
A quiz night is always fun, even when done virtually. Set a small fee to play and the winner splits the money with themselves and SpinalCure!
Eat cake with a virtual bake-off
Perhaps you can give Maggie Beer a run for her money? With more of your friends and family, why not host a bake-a-long on Zoom or Skype. Asking your friends to contribute to your fundraising page, you could even have a decorating competition.
Set up your fundraiser page now.
Start a gaming challenge
Start your own gaming marathon! Set up a team, or go solo, customise your fundraising page, here. Then, spread the word about your gaming marathon and ask your family and friends to sponsor you. Play your favourite games, live stream via Twitch, YouTube or Mixer and share with your network.
Donate your commute
One positive thing about working from home during lockdown is that the morning commute takes no time at all! Why not donate your usual travel fare to SpinalCure.
The average commute is $5 – $10 a day – so set up a regular $50 a month donation.
Get shopping
If you are online shopping, why not sign up with Shopnate. It's a really easy way to raise money for us, you can shop online at over 680 retailers — we get a donation each time you make a purchase and it's completely free!
And…don't forget to let us know
We'll help promote your fundraiser and we'd love to tell others about your fantastic fundraiser.
Contact Carol, our donor relations coordinator, to chat through your fundraiser ideas or send her some photos so we can post them on social at [email protected]
Have fun!