Sydney, 6 December 2022
Today, Comedian and Presenter Tommy Little handed over a cheque for $103,520 to Project Spark, a partnership between Neuroscience Research Australia (NeuRA), SpinalCure and Spinal Cord Injuries Australia that has the potential to improve the lives of individuals affected by spinal cord injury.
Inspired by close friends living with spinal cord injury, Tommy's commitment to find a cure saw him take on a 92km ocean swim in order to raise funds for a cause close to his heart. "Spinal cord injuries can happen to anyone and I've seen first-hand the effect it can have on a life. At the moment there is no cure but hopefully that's not the case for much longer," Tommy said.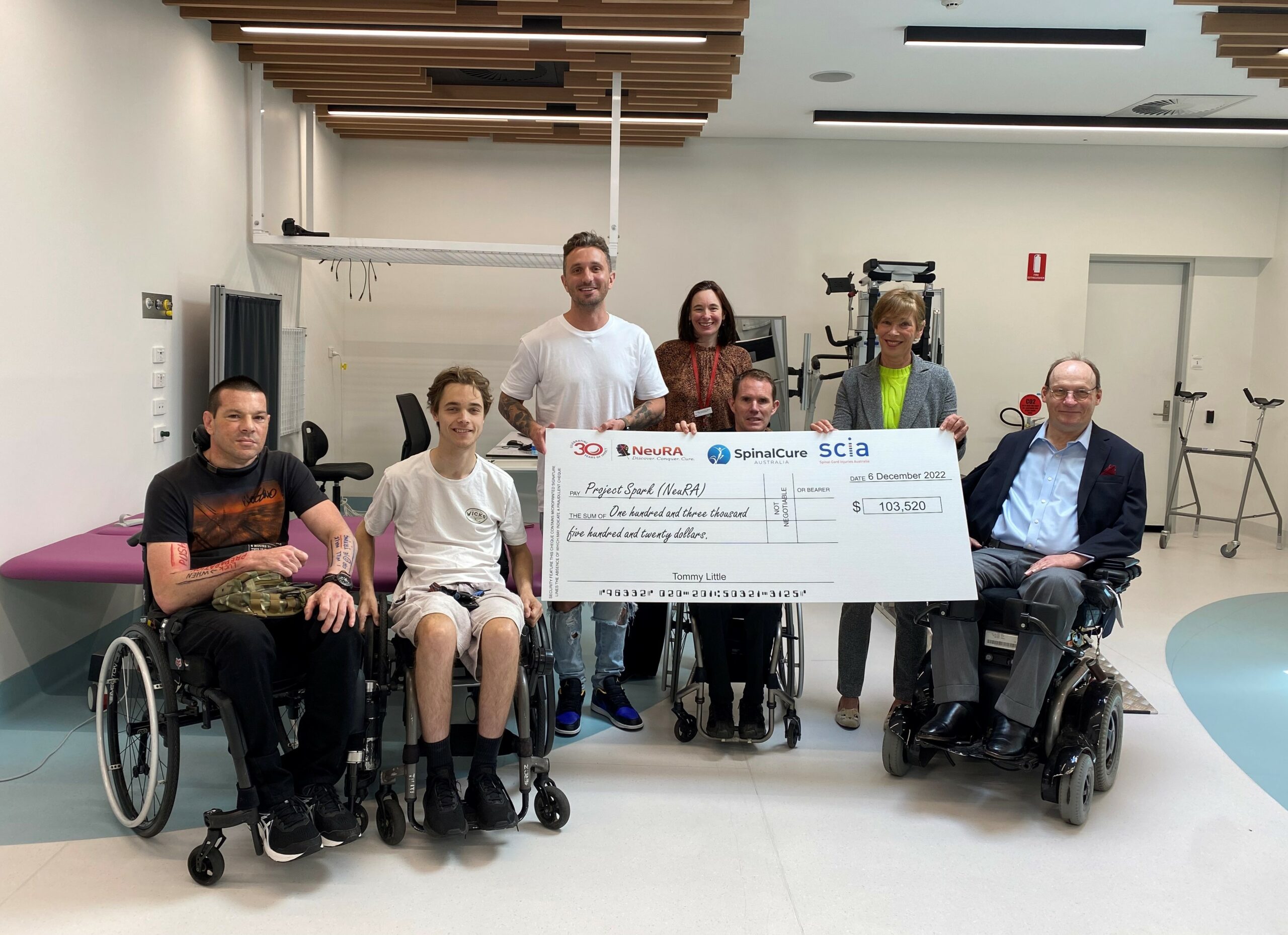 More than 20,000 Australians live with spinal cord injury and another Australian is injured every day.
This can be a devastating experience – severing communications between the brain and the body results in profound loss. Loss of movement; loss of bladder and bowel control, body temperature regulation and sexual function; and loss of health with ongoing pain, digestive issues, pressure sores and spasms.
Project Spark's research is potentially life-changing for people with spinal cord injury. It uses neurostimulation to restore communications between the brain and the body to recover meaningful amounts of movement and function.
Neurostimulation uses gentle currents of electricity to restore some communication between brain and body via pathways in the spinal cord that survive the initial trauma.
Project Spark aims to build the evidence needed to make neurostimulation a mainstream treatment for spinal cord injury.
"Project Spark is based on ground-breaking science with the potential to transform lives and substantially reduce the annual $3.7b cost to the economy. In studies overseas it has sparked life-changing recovery of bladder and bowel function, cardiovascular stability and walking even years after the injury," said Professor Simon Gandevia, Project Spark Research Lead and Deputy Director, NeuRA.
Tommy threw himself into training to swim a gruelling 92km swim relay through the North Sea from UK to Belgium; and enlisted the support of his contacts and listeners to the Hit Network drive time show Carrie and Tommy, to raise an amazing $103,520 from more than 1,000 individual donations.
Fundraising proved the easy part as Tommy found the actual swim was more than a little challenging. Weather delays and wild swells were the least of Tommy's problems as uncooperative authorities refused entry to French waters resulting in the initial attempt in July being halted after 53km.
Showing admirable perseverance and despite a bout of illness, Tommy found a small window of opportunity to complete the relay swim in September by crossing of the English Channel.
"The generosity of Australians is unparalleled, as is the brain power and science. With all these things combined we can give some hope to our mates with spinal cord injuries and finally find a cure," Tommy said.
"We are so thankful to Tommy for his incredible support of Project Spark. These funds will make a vital contribution to our collective goal of getting this cutting-edge research out of the lab and into community sites around Australia," said Duncan Wallace, Executive Director, SpinalCure Australia.
NeuRA, SpinalCure and Spinal Cord Injuries Australia thank Tommy for his support and invite philanthropists and the community to follow Tommy's lead and support this world leading research: spinalcure.org.au/donate/
–ENDS–
Media contacts:
 
Michelle Smith | Senior Communications and PR Officer | 0452 140 477 | [email protected]
Beatrix Kates| Communications and PR Manager | 0421 320 769 | [email protected]
 
BACKGROUND
Spinal cord injury key facts
Every day, someone in Australia injures their spinal cord, with devastating consequences.
There are over 20,000 people in Australia with spinal cord injury.
Spinal injury costs the Australian economy $3.75 billion per annum with a lifetime cost in 2020 estimated at $75 billion.
For a comparatively small investment, we can make a significant impact on people's lives and save on the substantial costs to the economy.
Cost savings from recovery in just 10 percent of people are conservatively estimated to be $3.5 billion, with the potential to be as high as $10.3 billion.
In a second, someone's life can change: from a car or sporting accident, or a simple fall. Any one of us could go from being active to injuring our spinal cord and spending much of their life in a wheelchair.
The impact is life-shattering, not only for the injured person but also for their loved ones. For these people, there is currently no treatment, pill or lifestyle change that can mitigate the effects of a spinal cord injury. Research is their only hope.
Loss of movement is just the tip of the iceberg—ongoing pain, digestive health issues, pressure sores, spasm, loss of bladder and bowel control and impaired sexual function are just some of the effects that can make everyday life so difficult.
Increasing the independence of people with spinal cord injuries through improved treatment would substantially reduce the $3.7 billion annual cost to the economy by:
reducing care requirements through increased independence;
reducing rehospitalisations for such things as urinary tract infections, digestive issues and cardiovascular complications;
improving physical and mental health, and increasing workforce participation by people with SCIs.
About Spinal Cord Injuries Australia
Spinal Cord Injuries Australia is a national member-based organisation serving over 3,000 members and acting as a peak body for people with spinal cord injury and other neurological conditions.
We were founded by people with spinal cord injury over 50 years ago and our purpose is to create a world where people with spinal and neurological conditions and their loved ones thrive.
Find out more at scia.org.au
About NeuRA
Neuroscience Research Australia (NeuRA) is an independent, not-for-profit research institute based in Sydney aiming to prevent, treat and cure brain and nervous system diseases, disorders and injuries through medical research.
To learn more about NeuRA visit www.neura.edu.au
About SpinalCure
SpinalCure has been Australia's pioneer and leader in the funding and promotion of cure-related spinal cord injury research for 25 years.
Four SpinalCure Directors live with a spinal cord injury and know what it requires physically, mentally and emotionally to cope with such a devastating condition.
Find out more at spinalcure.org.au
---
A Word doc of this media release can be downloaded here: Media Release Tommy Little Swim 6 Dec 2022