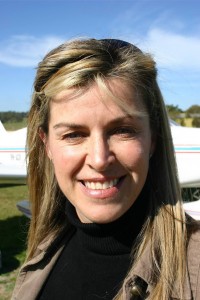 Janine, a champion cross-country skier, was training for the 1988 Winter Olympics when she was run over by a truck during a bike ride in the Blue Mountains. Among other injuries, she broke her neck and back in six places and doctors warned her parents that she was not expected to survive and if she did recover, she would never walk again.
Janine focused every sinew of her being on healing her broken body and crushed morale. Her fighting spirit was rekindled watching small planes flying overhead and she decided, "If I can't walk, I'll fly" – and fly she did. Within a year she had her private pilot's license; twelve months later, her commercial license; then her instructor's permit. She then went on to become an aerobatics-flying instructor.
While this was happening, she pushed her body to mend itself, forced her legs to walk again, step by painful step. Janine's story Never Tell Me Never, of which a movie has been made, is a testament to the power of the human spirit. Her other books are Dare to Fly and Reaching for Stars and The Gift of Acceptance.
Although doctors said she would never have children, Janine says her greatest achievement is the three young children she now has.
Janine has since gone on to finish her University degree in Physical Education and is in demand as one of the world's top motivational speakers. She has presented to leading organizations and companies worldwide, empowering others to overcome adversity and sharing her message of hope, transformation and human potential. As an ambassador of Spinal Cure Australia, Janine is only too happy to spread awareness of spinal cord injury and the need for spinal cord research.